Karson's Kastle Quotes and Online Booking
Check In Check Out Guests
This stunning beach house is located at 2217 West Beach Blvd in Gulf Shores, Alabama, offering guests a prime beachfront location on the coveted West Beach. With its unparalleled views of the Gulf of Mexico and luxurious amenities, this vacation rental is the ultimate destination for those seeking a tranquil and relaxing beach getaway. The house features large decks on both levels, providing guests with breathtaking views of the water and plenty of space to soak up the sun. Inside, the living areas are spacious and thoughtfully designed with coastal decor, creating a comfortable and inviting atmosphere.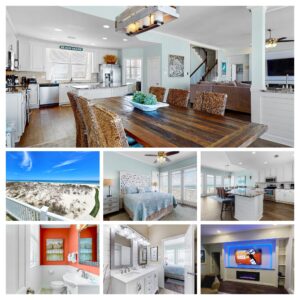 The bedrooms are beautifully appointed with plush bedding to ensure a restful night's sleep. Guests can also enjoy modern amenities such as high-speed internet, cable TV, and a washer and dryer. With its unbeatable location, luxurious amenities, and stunning views, this beach house on West Beach is the perfect vacation spot for families, friends, or anyone looking for a beachfront paradise.
Just some of the extras are:
Open floor plan
4 beach side bedrooms, all with views of the Gulf.
4 decks on front and back of house
Master bathroom with Jacuzzi tub!
Under house parking
40 inch TV in all bedrooms
Peaceful side of Gulf Shores
Sunken ship 100 yards from the shoreline, provides great fishing!
New furnishings being added every month
Newly remodeled Beach House!
Location, Location, Location is why we chose Lasting Memory @ Karson's Kottage to be one of our Gulf Shores Rentals! Just 4 miles from the Hangout, 1 mile from Lagoon Pass and 10 minutes from Orange Beach! Karson's Kottage is located just past the condos of Gulf Shores so that is why we call it the Peaceful side of Gulf Shores! The beach views from almost every room and the open floor plan make this a perfect choice for you beach destination. The views in front of Karson's Kottage are beautiful as they overlook the Little Lagoon and the upscale houses situated far from the road.
The interior includes 9 ceilings, an open floor plan also provide a very light and bright atmosphere. The Master bedroom is also on the main floor off the living room. Upstairs there are 3 more bedrooms, 2 baths and a loft bedroom. The kitchen offers the perfect place to prepare meals or from which to serve your family or small group.
Every room is decorated immaculately with great attention to detail and the views from every room and deck are simply awe-inspiring. The balcony offers privacy and is great place to watch the sunset and sunrise!
"Out of the World"
I just want to tell you that this has been the most wonderful vacation I have ever had. This condo is beyond belief! The view, the furnishings, and everything is out of this world. We will be returning every year. Orange Beach and Gulf Shores are great too, this is our first time to the area and we just love it! Thank you so much for a vacation I will never forget!
"Great… Everything"
From the booking to the view to the layout to the location… everything was great! Wish we could have stayed longer and if given the chance, will be back for sure!
"Excellent condo and view"
The Phoenix West II is a great place to stay and this condo is fantastic. The view from all locations in the condo is breathtaking and the patio view is great also. The furniture in all rooms is of high quality and the condo is decorated with a designer touch. I would recommend this condo to anyone looking for luxury and relaxation. Orange Beach and the surrounding areas are beautiful and a great place to vacation.
"Breathtaking views!"
We rented this unit to celebrate our 10th wedding anniversary, we weren't disappointed in the least!! The owners were great to work with and really pay attention to the details. We honestly couldn't have asked for anything better!! Can't wait to go back!