PGT 1801 Quotes and Online Booking
Check In Check Out Guests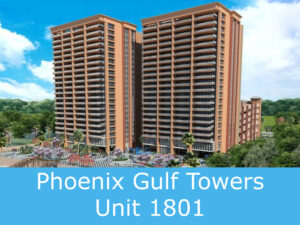 Elevate your vacation with a spacious 4-bed, 4-bath condo in the heart of Orange Beach, offering unobstructed views of the Gulf of Mexico and its white sandy beaches, located at 22989 Perdido Beach Blvd!
Orange Beach, Alabama, is a fantastic destination for vacationing, boasting miles of pristine white sand beaches and turquoise waters of the Gulf of Mexico. When it comes to beachfront accommodations, Phoenix Gulf Towers' Unit 1801 is an excellent choice for vacationers seeking luxury and comfort.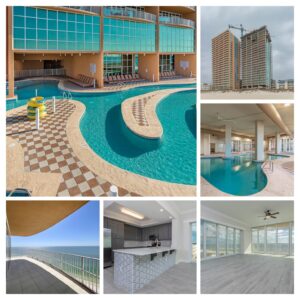 Upon entering this stunning condominium, you are immediately welcomed by the breathtaking views of the Gulf of Mexico and the sugar-white sand beaches. The spacious living room and dining area feature floor-to-ceiling windows that allow you to take in the panoramic views and the gentle sea breeze. The condo is beautifully decorated and well-appointed, providing guests with a luxurious and comfortable stay.
Phoenix Gulf Towers features an array of onsite amenities, including indoor and outdoor pools, a lazy river, a hot tub, a sauna, and a fitness center. The building also has covered parking and 24-hour security to ensure guests' peace of mind.
In addition to the condominium's excellent amenities, Orange Beach offers numerous activities to keep vacationers entertained. You can enjoy fishing, golfing, shopping, and dining at world-class establishments. Gulf State Park is also nearby, providing opportunities to hike, bike, and explore nature.
Staying at Phoenix Gulf Towers' Unit 1801 is an unforgettable experience, offering everything you need for the perfect beach vacation. Book your stay today and discover the beauty and charm of Orange Beach, Alabama.
Dear Vacationers,
We want to extend a warm welcome to you and express our gratitude for considering Phoenix Gulf Towers Unit 1801 as your vacation rental. We are Danny and Tara Orr, your hosts for your stay on the beautiful Gulf Coast of Alabama.
Our goal is to provide you with an exceptional vacation experience, and we take pride in offering a luxurious and comfortable stay in our condominium. We have gone above and beyond to ensure that every aspect of your stay is enjoyable, from the breathtaking views of the Gulf of Mexico to the top-notch amenities and the convenient location.
As hosts, we are committed to making your stay as memorable as possible. We are available to answer any questions you may have and to provide recommendations for local activities, restaurants, and attractions.
We hope that you have an unforgettable vacation at Phoenix Gulf Towers Unit 1801 and that you create lasting memories with your loved ones. Thank you again for choosing us as your hosts, and we look forward to welcoming you to our beautiful piece of paradise.
Sincerely,
Danny and Tara Orr
If you have any questions, please call or text us between 8 am – 10 pm. Our cell phone number is 865-363-3266 or 865-680-1255. Feel free to contact us via email also, our email address is gulfcoastvacations251@gmail.com
If you book or request a booking (or email us) we will respond within minutes daily. We appreciate your interest and your business and look forward to having you stay with us.